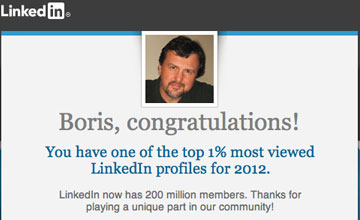 Linkedin, the social networking site for business owners and job seekers, recently celebrated a milestone: 200 million users world-wide.
Today I received this email from Linkedin announcing that my profile is in the top 1% most viewed in 2012.
I have been using Linkedin for business for several years, and have found a simple-to-follow formula that I teach to my one-on-one mentoring clients, and also to students who attend my live workshops.
One of the ways to succeed in generating new businesses using Linkedin is to create a winning profile page.
First, start by adding your current position(s). If you're self-employed don't use the title of CEO or President, but use a more descriptive phrase, such as "Social Media Marketing Consultant at iBizAcademy." If your business is incorporated, and you are the president, then describe what you do, for example "President, in charge of Membership and Franchising."
If you're an entrepreneur, you likely have several businesses, so list them all as your current positions.
One word of advice: when you're describing a position use relevant keywords you want to be found for. Do some keyword research using this free tool from Google. Once you receive a number of recommendations don't change the description of a position. This is because you will have to approach all your contacts to re-confirm their recommendation.
Once you have your current positions listed approach all your most recent clients and ask them for a recommendation.
I can teach you, too, on how to use this social media outlet from lead generation to closing more deals.
If you're on a limited budget, you can start with my self-study audio CD and mp3, Linkedin: Social Networking for Professionals.
Next step would be to attend one of my Linkedin to the Max! workshops.
Please contact me if you'd like to arrange for one-on-one training sessions with me.