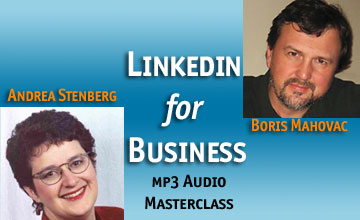 How to Use Linkedin Social Networking for Business
Linkedin is one of the few social media marketing tools available to serious professionals. This world-wide networking site connects more than 80 million professionals, business owners and employers.
If you have been wondering if social media networking for business is for you, this self-study course if for you!
In This 75-minute Session You'll Learn:
What is Linkedin and how it can help you grow your business?
Is Linkedin for YOU?
The key to creating an attractive Linkedin profile
How to grow you network with style and grace, without spamming people
How to establish yourself as the "go-to" person in your field of expertise
How to attract the right kind of prospects who want to buy from you
How to connect your Linkedin profile to your other online presence, such as Facebook
This Master Class session is part of my Contacts 2 Clients Self-Study Program. It contains:
MP3 audio file you can listen to on your iPod or mp3 player, burn to an audio CD or listen to on your computer
Printable PDF with a full word-for-word transcript of the audio presentation for those who prefer to read, underline and highlight important passages. For your convenience and easy access, it also contains hyperlinks to web sites and resources mentioned in the audio presentation.
Digital files are available at the lower cost, but you can also order a physical CD to be shipped to your door, for an additional charge. If you order a CD you will also have immediate access to digital files so you can start studying right away
[wp_eStore:product_id:7:end]
[wp_eStore_cart_when_not_empty]