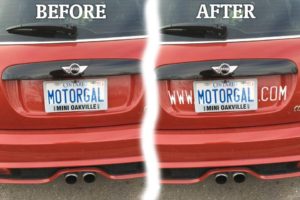 This is a low-cost, low-key but high-impact vehicle advertising option, even for people who are averse to having marketing messages splashed all over their vehicles.
Total cost is about $300 ($251.65 for Ontario plates + about $10 for internet domain name + about $50 for custom vinyl lettering). The best part is, this mini ad will work 24/7 for many years, and the more you drive your vehicle the harder it will work for you.
This guerrilla marketing tactic consists of 3 components:
Register a custom license plate that somehow relates to your business. In this example, MOTORGAL is an Ontario license plate owned by a car salesperson. This guerrilla marketing tactic works best if your whole company name can fit on an 8-character maximum allowed in Ontario (other jurisdictions may have different limitations), for example, if your business name is Miralco or Impeco, you should be fine.
Only register your custom license plate if you can also register a matching .COM or other domain name. In case your business name is longer than 8 characters, for example Daniel Durst State Farm Insurance, you could use DDINSURE and register a .CA (Canadian) domain name. Once you pick a domain name, if it's not your main domain, set up your new domain to simply forward to your main web site, so in this example Daniel would set up DDINSURE.ca to forward to his DanielDurst.com web site.
If you were able to register a custom plate and found a matching domain name, the final touch is to add the letters WWW. to the left of your custom car plate and then .COM to the right (if the .COM is taken, you can try a .CA or .BIZ, but ideally you should try to find an available .COM). Simply ask any local signage company to cut these letters for you from reflective vinyl. If your vehicle colour is dark (e.g. red, blue, green, etc.) use white vinyl, if your car's colour is white or light-coloured, use dark blue (for Ontario plates) or simply match the colour of the letters on your licence plate.
Feel free to use this PDF file to cut letters for an Ontario plate. If your own plates use a different font, or size, please forward a template to me and I will add the file to this blog post, or provide a link to a file in the comment section below.
More Guerrilla Marketing ideas.
[notification style="tip" font_size="12px"]Subscribe to more blog posts on unusual creative marketing ideas
[/notification]