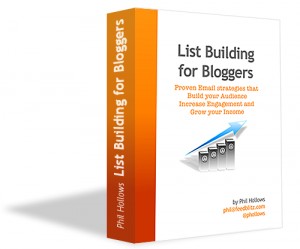 Subtitled Proven Email Strategies that Build your Audience, Increase Engagement and Grow your Income, this book is a must for every business blog owner.
The author is Phil Hollows, the Founder and CEO of FeedBlitz, the email and social media marketing automation service.
Hollows contends and I agree: Your email subscribers are your greatest fans. Unfortunately, for most blogs, they are also the most under-utilized business asset. With the tips and strategies on e-mail list building found in this book you will increase your blog's page views, increase engagement and ultimately increase revenues generated by your blog.
Here are some highlights from the book:
Ten Power Tips to turn your blog into a rocking-socking, butt-kicking, inbox-busting, fully automated email marketing and subscriber retention system.
Three case studies so you can avoid the mistakes even the Big Guys make.
Easily actionable tips to grow both list quality and quantity.
Chapters on auto-responders so you can market while you sleep, custom fields for personalization, and how to avoid spam traps.
All in easy to understand plain English!
This isn't just another 20-page e-book. Phil Hollows has condensed years of his own experience as a business blogger and email marketer into 24 chapters, over 160 pages of easy-to-understand plain English, so anyone can take advantage of these tips easily and quickly.
You can get the book directly from the author as an immediate download here.
And let's end this with a quote by Seth Godin: Phil Hollows is a mensch, and a generous one. In this book, he's sharing a ton. Stuff he learned the hard way. Ignore it at your peril.
This article describes the benefit of buying this book. I only recommend products and services I've used or tested myself. If you purchase this book via my link I will be compensated by the author.